Afro Reggae Lights Up Hope For Youth in Brazilian Favela
I visited Brazil about 10+ years ago with my brother and a group of friends.  We were there to check out and participate in the Carnival, namely the biggest party on earth.  The trip was amazing and we all had a fantastic time, but two things I remembered especially:
1) When we were in the Carnival's parade, we joined a group called Timbalada, and were protected by guards, surprisingly, I was still robbed.  Thankfully, I managed to pull back my bag from the robber.
2) We wanted to visit the two world famous beaches, Ipanema and Copacabana .  However, we were told by our Brazilian friends, since we are not local, we should not visit the beach by ourselves because chances are we will get robbed and jumped.   Next to the magnificent coast line is the Brazilian poorest slum and on the other side, there were some of the world's best resort and hotels along side the sanded beaches.  How ironic…
We were also told that majority of the crime were done by the gang from the Favela, the Brazilian term for slums.  There are somewhere around 11 million people that lives in Favela in Brazil, usually, for youth who lives in it, there will be two ways to make quick money in order to get out of Favela, to join the gang and sell drugs, or produce a hit song that sells platinum.   That was basically the case before the non-profit organization Afro Reggae comes into play.
Afro Reggae is a group of people who grew up in Favela and wanted to make a change, and help the youth in Favela find meanings of their lives, other than joining the gang.  Afro Reggae was not funded until recent years.  When they started, they made instruments out of trash can, discarded tin cans and other rubbish.
Nevertheless, Afro Reggae take their training, music and performance seriously, check out the video below and you will see how good they are.   If you are inspired like I was, please share this post.  Some people around the world are constantly striving to make positive influences and changes to make the world a better place.  Let's give them our fullest support!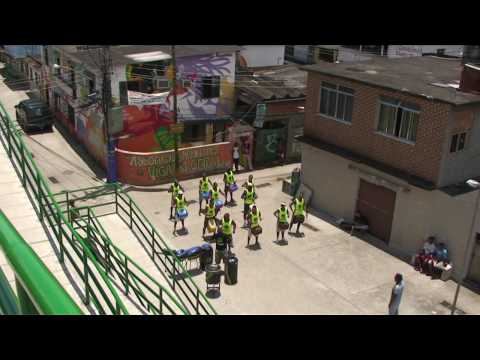 Afro reggae, Brazilian youth, favela, gang, violence, carnival, rio brazil, social revolution, slum, poor people, positive change, make a change